Checking Your Attic for Water Damage
12/4/2018 (Permalink)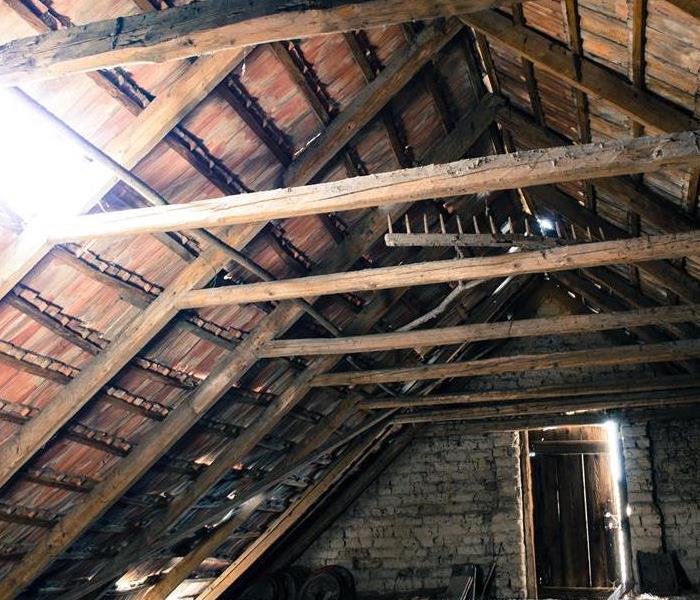 Your attic will be one of the main places where damage from heavy rainfall can occur, and then mold growth becomes a possible concern - that's not anything a homeowner wants. It is one of the places in your home that you won't visit regularly; usually, a trip up to the attic is only made when you need something you have put up for a rainy day. It's important to check your attic area periodically for leaks and water damage, especially after winter or other damp seasons, depending on your geographic location.
Some houses have water heaters in the attic, and they are known to leak as they age. Your attic will also take the brunt of storms, right along with your roof. When the roof sustains damage such as loose or missing roofing material, you will probably see water stains in the attic, letting you know a problem is developing.
Follow these tips to help you keep on top of any water damage to your attic:
Check your attic for damage regularly. It's important to assess your attic space as often as you check other parts of your home. You'll want to make sure this area isn't holding water, which can spread to problems with your interior ceilings.
Check your roofing after extremely damp or severe weather. It's crucial to check all roofing after a strong storm and/or high winds to ensure it is still intact.
Make sure a water heater located in the attic of your home is working properly. If your water heater isn't functioning the way it should, or if it has seen better days, have it checked by a professional. A malfunctioning water heater can flood your home and cause major property damage.
Here at SERVPRO of Huron & East Seneca Counties, we are always ready to help with cleanup after water damage and fire damage and are experts in the area of mold remediation. Call us at (419) 442 1790 with questions or concerns, or to schedule an appointment if you are in the greater Seneca areas, including Bloomville, Green Springs, Greenwich, and many, many more!