Checking for Winter Water Damages in Your Apartment Complex
4/2/2019 (Permalink)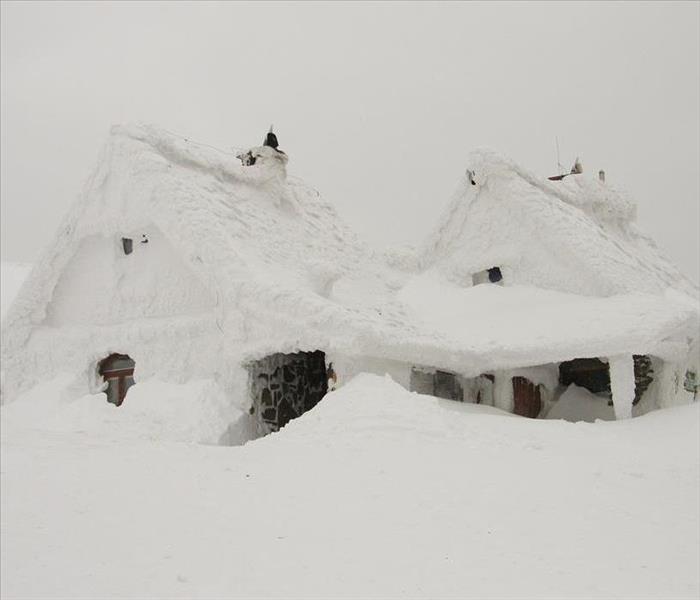 During the winter months, homes of all types are more susceptible to water damage caused by icy conditions. Keeping an eye on potential problems that can be caused by wintry weather will go a long way in preventing water damages to your apartment complex.
Here are some examples of areas you will want to take note of:
If ice builds up in the gutters of your complex, as it melts it can create water damage issues in the ceilings, walls, and floors of affected units. If you notice ice dams forming in these gutters, or you have long icicles forming on the edge of your roof, it's time for some investigating.
The roof of a home or building that has a lot of ice buildup is one that is not properly insulated. If this is a condition that you are seeing in your complex, you will want to take steps to increase insulation there. The weight of snow and ice can cause buckling, which will allow water to stand there longer than is normal - this then can lead to rotting of the roofing materials, followed by leaks and drips.
Water damage can happen quickly, as in the event of a flood, or it can occur over a period of time as in the case of a slow leak from ice dams. No matter what happens, once you discover that water has infiltrated your apartment complex, you will need to get the water cleaned up. Standing water in parking areas and walkways can be damaging to all types of surfaces, as well as dangerous for your residents as they enter and exit your property.
Enlisting the services of a professional to ensure that any influx of water and its aftermath gets cleaned up as well will be a great proactive step to take, keeping your property safe from winter water damages. Such companies are skilled in finding water that has seeped into areas not easily visible, such as walls and crawlspaces. They will find the source of the water and have the damage cleaned up in a professional and timely manner. If you clean up the mess yourself, you can leave behind small amounts of moisture that could allow the establishment of a mold colony, and that can spell disaster for the owner of an apartment complex.
Here at SERVPRO of Huron & East Seneca Counties, we are experts in mold prevention and mold remediation. Call us for help with winter water damage this season. We are also professionals at water damage, fire damage, and storm damage remediation.